Ian Nicoll/Dacal/NewD

Widgets (UniAW)

1 374

73.42 MB

iOS 11 - iOS 12 - iOS 13 - iOS 14
3.55/5 (155 votes).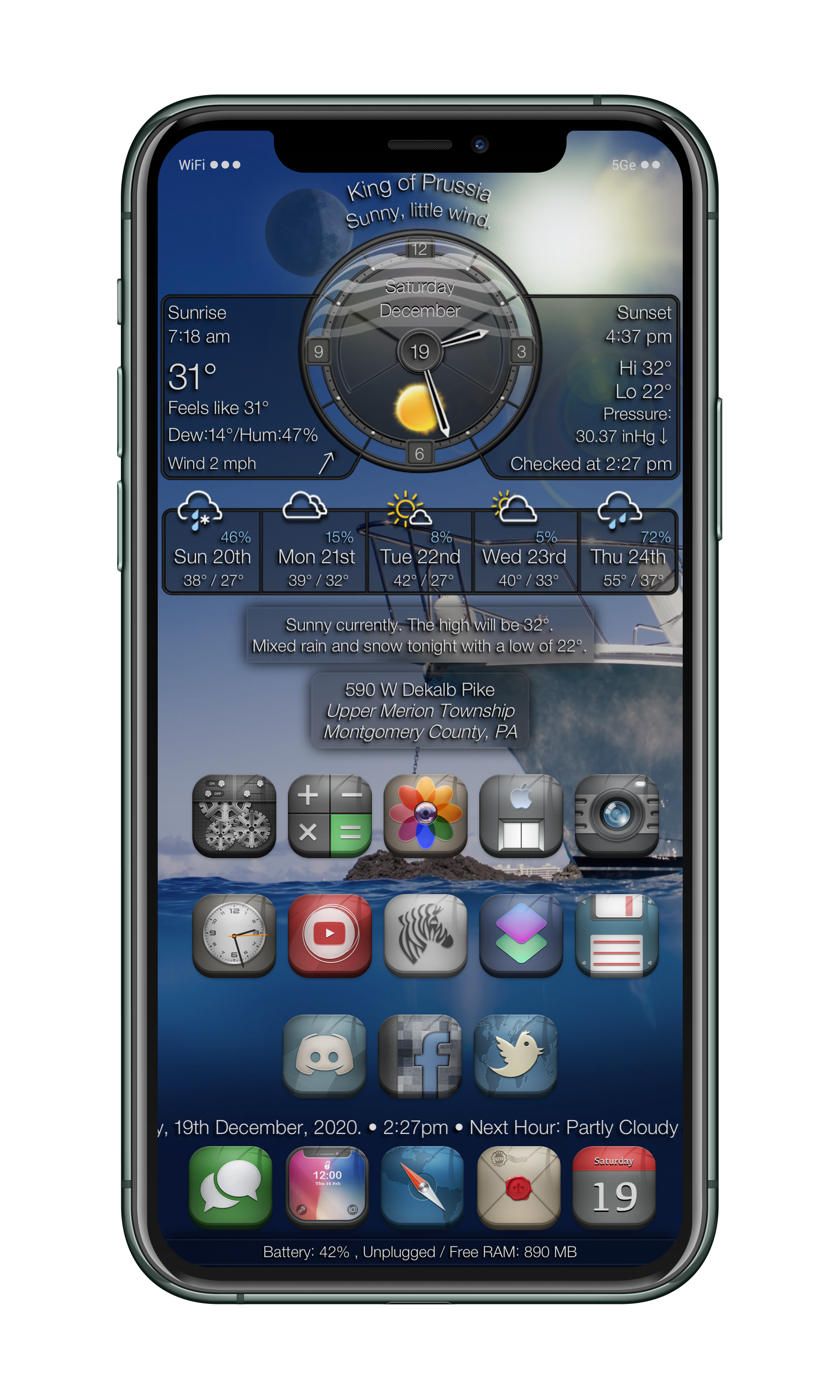 The next iteration of the legendary UniAW - chocked full of new features but zero additional battery drain!
USER CONFIG SCROLL BOX now!
FONTS? We got it now!
CURVED TEXT? We got that too!
RESOURCE PACKS? Read about that too!
SCROLLING TICKER TAPE BAR! yup!!
MULTIPLE ALTERNATE WALL LAYERS!
ANALOG CLOCK now shows 24hr Time!
AUTO-LANGUAGE DETECT!
MORE NEW LANGUAGES SUPPORTED!
(Hebrew, Arabic, Croatian added)

V2 comes with LOADS of new feature

Come and join the discussion at the 'original' no-drama discord server for Jailbreak help, widgets and themes:
"Jailbreak & Widget Help"
---
Changelog
1.30 -
• Added reverse text languages: Hebrew & Arabic (took a long time for these)
• Add new configurable scroll box. Check Config.js for how to add the series of numbers for the scroll
• Added rain to snow calculations for the 24hr precip as the feed only gives inches or cm of rain.
• Fixed a MAJOR bug that was preventing the sun and moon position from moving across screen during day. You needed to respring. All fixed now. (This one alone is worth this update)
• Added a couple alternate layers for "top" style sheet. Turn on Alternate_Layer and specify a number in Settings

1.20 -
• Auto set of language for widget.. though you can still hard set a language in Config.js if you wish to go against your phone language settings
• Solved the widget breaking in Indonesia and Vietnam - timestring format issues
• Added three new languages to translation.js: Croatian, Vietnamese and Indonesian
• Added translation for moonphases FINALLY after 8 years.
• New variable in Config_extra.js you can set it for abbreviated moonphases too for smaller boxes in your mods
• Loads of spacing problems with hourly forecast and daily that were just never dealt with in the upgrade to XH2 and slightly adjusted for when you add date suffix, etc (all settable in Config_extra.js)
• More unique additions for AnimationOnly mode
• More implementation of Resource Pack stuff.
• More Font enhancecment for modder and users (a new Vietnamese-friendly font added)
• Cleaned up many positional issues in Style_Simple.css and Style_Top.css that were neglected in the move to v2.

1.01 -
• Lots of foreign language translation updates other minor bug fixes

1.00 -
• Initial Release
---
Comments